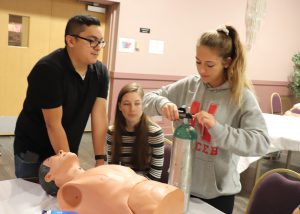 Soon, our students will have what it takes to respond to emergency calls for life saving support. 
At a time when demand it high for medical professionals at all levels, students in  our New Visions: Health Careers program at St. Peter's Hospital are taking a course that will ultimately certify them as New York State Emergency Medical Technicians (EMTs) while also preparing them to pursue a health career in college.
"By getting our students the certifications they need to work in healthcare, we are allowing them to start patient contact hours, which are extremely important for people pursuing careers in medicine. You need these hours to apply to most grad programs. This is a great way to get those hours and get paid for it," said New Visions: Health Careers teacher Thomas Slovic.
Starting this year, the EMT curriculum is being offered through a trial program in one of two of the New Visions classrooms (the other classroom is at Ellis Hospital in Schenectady). The longstanding New Visions: Health Careers is designed for high school seniors interested in medical and health-related professions. Students learn through traditional methods as well as rotations in various hospital departments. Those rotations are structured observations of professionals and procedures in a career field.
With the addition of the EMT curriculum, students spend each Monday working with New York State EMT instructor Jancarlos "JC" Guzman and his assistant Amanda Kilmer.
In May, students will take the state practical and written exams to be certified as EMTs.
"It's exciting to get the hands-on experiences and start towards our future now," said Madelyn Castle, Niskayuna Central School District student who studies in our program. She plans to go to college to be a labor and delivery or OBGYN physician.
"It's cool to have these hands on experiences this early. I want to be a physician's assistant and this will help me step right into that," added student Kaelyn Lawson of Voorheesville.
Many of the 14 students from eight Capital Region schools enrolled in the program said they plan to use their EMT certification to work or volunteer for an ambulance agency locally or at college.
"I really want to be an EMT when I go to nursing school. It will be great to work saving lives and not serving fries," said Olivia Mendoza of Shenendehowa.
That sentiment is just what area ambulance services who struggle to find EMTs to staff their ambulances want to hear.
"Recruitment of new providers is at a critical point, many agencies are operating short-staffed. Innovative programs such as this New Visions project could help to alleviate this problem," said Tim Mirabile, executive director of the Regional Emergency Medical Organization (REMO). REMO oversees emergency medical operations in the region and provides the state-certified instructors for training courses.
For his part, Guzman said it is great working with energetic students eager to learn.
"It's great to be teaching high school students. They are fresh and eager to learn—even at 8 o'clock in the morning. It's a drastic difference between teaching adults and college students and teaching young high schools students ready to take on the world," he said.