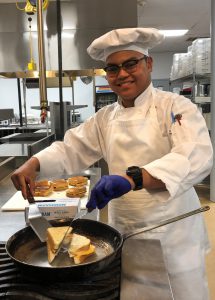 While kitchen culture often relies on audible cues—think meal orders being shouted and timers that signal a cake is ready to come out of the oven—students such as Angelo Carino and Ginger Crandall, both of whom are deaf, show that an inability to hear isn't limiting their culinary career aspirations.
Carino, of Guilderland, and Crandall, of Saratoga, split their time daily learning in both the kitchens of our culinary program on the Career and Technical School Albany campus and in the Deaf and Hard of Hearing Program (D/HH) at Guilderland High School.
Earlier this year, Carino won a silver medal in the New York State SkillsUSA Food Prep competition in Syracuse. He chose the culinary program to prepare for a career in cooking and hopes to eventually "own a fancy restaurant." Crandall aspires to a career in the hotel and hospitality industry and will also use the culinary skills she is learning at BOCES to prepare meals for her family.  
While Carino said communication is sometimes difficult in the hustle and bustle of the kitchen —"I have to write things down or text them sometimes"—Crandall said she hasn't had any real issues with being deaf while learning in the culinary program.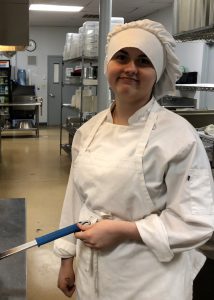 "I like working with food and learning skills I can use to make meals for my family," she said.
Carino said he enjoys all of his BOCES education and looks forward to building a bright future.
"It's fun to work with friends and work as a team preparing food," said Carino.  "I like to learn my culinary skills and practice with recipes and just do all of it."
Through the D/HH program, the students receive specialized instruction, speech therapy and interpretive services. Their educational interpreter, Colleen McGuirk, travels with them to the Career and Technical School campus and interprets their lessons in American Sign Language (ASL), both in the classroom and the culinary labs.
"It's great to see some of the other culinary students are trying to learn sign language so they can communicate with Angelo and Ginger," said McGuirk.
Chef Mark Brucker oversees the students' culinary learning. As the father of two deaf children, he has a personal knowledge of the challenges students who are deaf can face. Despite this, he has seen students who are deaf excel with culinary and other programs we offer through our Career and Technical school.
"I think it's great that students from our D/HH program have the opportunity to learn with us," Brucker said. "They are gaining important life and workplace skills that are sure to give them an advantage when they graduate."
Over the years, Brucker has had many students from our D/HH program learn in his classroom, as have other Career and Technical school faculty.
"No matter what program they choose, learning with us opens up doors for them and that is important," he said.