First-Place Medalists Advance to State SkillsUSA Competition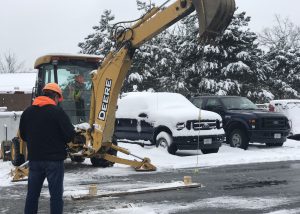 Nearly 40 Capital Region BOCES Career and Technical Education (CTE) students put their skills to the test in everything from heavy equipment operation to heating equipment repair, nursing and more at a regional SkillsUSA competition. 
The annual event allows high school students to showcase their technical knowledge of career and technical education programs. 
Students competed against their peers from Questar III and other BOCES during a spring day filled with events at Schenectady County Community College (SCCC) and Stratton Air National Guard Base.
"Congratulations to our competitors. They did a fantastic job and we are very proud of them," said Valerie Kelsey, deputy director of Capital Region BOCES Career and Technical Education.
Regional SkillsUSA Medalists
First-place winners and many other medal winners will advance to the state SkillsUSA competition April 25-27, 2018 at the New York State Fairgrounds in Syracuse. Winners of that event will advance to the national competition in Kentucky in June.
Student names are listed, below, along with their competition and home school district. 
First Place
Ryan Schenmeyer, auto service technology, Voorheesville
Billy Smith, precision heavy equipment, Middleburgh
Warren Weaver, carpenter assistant, Scotia-Glenville
Abby Grant, commercial baking, Cohoes
Danielle DiCaprio, cosmetology, Mohonasen
Andrew Masi, diesel equipment technology, Guilderland
Gavin Haar, electrical construction wiring, South Colonie
Brendon Haack, heating, ventilation and air conditioning, Berne-Knox-Westerelo
Thomas Ascenzi, internetworking, Cohoes
Maddie Hurley, job interview, Schalmont
Second Place
Majira Ambroise, culinary arts, South Colonie
Mayanna Hayhurst, nurse assistant, Burnt Hills-Ballston Lake
Tyler Blackman, prepared speech, Shenendehowa
Alex Cipperly, precision heavy equipment, Schoharie
Zach Lawrence, criminal justice, Duanesburg
Devon Ilowiecki (Schoharie), Abigail Patulski (Cobleskill-Richmondville) and Thomas Crescimanno (Middleburgh), crime scene investigation team
Third Place
Keith Diamond, action skills, Schoharie
Gavin Ogren, carpenter assistant, Guilderland
Katelyn Singleman, commercial baking, Mohonasen
Joe McIntyre, culinary arts, Burnt Hills-Ballston Lake
Colynn Tubbs, diesel equipment technology, Guilderland
John Dolezsar, employment application process, Schenectady
Michael Tilison, prepared speech, Mohonasen
Ryan Gundermann, extemporaneous speech, Guilderland
Dahkeya King, welding, Cobleskill-Richmondville
Robert Dorrough, carpentry, Schoharie
Toni Waitt, cosmetology, Cobleskill-Richmondville
Fourth Place
Ryan Mattimore, auto vehicle maintenance basic, Schalmont
Kumar Sukhnandan, collision repair, Schenectady
Tara Hoffman, nurse assistant, Burnt Hills-Ballston Lake
Laura DiSorbo, photography, Ravena-Coeymans-Selkirk (RCS)
Anthony Jacobs, (Galway) Alison Knauf (Schenectady), Alex Kuzmak (Watervliet), promotional bulletin board team
Megan O'Toole, restaurant service, Voorheesville
Chris Goodrich, auto service technician, Cobleskill-Richmondville
Fifth Place
Angel Ferrand. criminal justice, Shenendehowa
Aiden Williams, welding, Niskayuna
Anthony Loeber, culinary arts, Cobleskill-Richmondville
Selena Garreau, job skill demo, Cobleskill-Richmondville