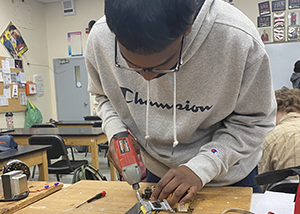 Dharma Parmeshwari went on his first heating and cooling repair job when he was 11 and he hopes to never stop. 
The Schenectady High School junior has a passion for the industry after tagging along on jobs with his older brother—a Heating, Ventilation, Air Conditioning and Refrigeration (HVAC/R) technician who graduated from BOCES in 2011.
"I really like it. It's a good job. You make good money and you get to work on interesting things," said Parmeshwari, who enrolled in our HVAC/R program in 2021 and plans to follow his brother into the industry when he graduates next year. 
"I want to go right to work … it's in my blood," Parmeshwari said.
Parmeshwari's brother Doodnauth went into the private sector upon graduation and is now a member of the U.A. Local 7 Plumbers and Steamfitters.
"My brother taught me some things, how to solder and stuff like that, and now I'm here learning how to do more things professionally," he said.
Parmeshwari is one of more than 30 students enrolled this year in the HVAC/R program at the Career and Technical School, Albany campus. In the school's state-of-the art classroom, students learn about ventilation, piping, refrigerants and refrigeration, furnaces and boilers while gaining a solid foundation of knowledge to launch careers in the industry.
Recruitment Now Underway
Recruiting is underway for the 2022-23 school year. The year will be highlighted by the opening of a new, state-of-the-art Career and Technical School, Albany Campus that will house nearly all programs. The Schoharie Campus will also remain open providing numerous opportunities for students in the southwestern reaches of Capital Region BOCES.
Learn About Our Career & Technical Education Programs
The Heating, Ventilation, Air Conditioning and Refrigeration (HVAC/R) program is one of more than 40 programs offered on one of three campuses for high school students. Learn about the many courses available to through our Career & Technical School.