Junior is fanning the flames of his career choice while extinguishing fires.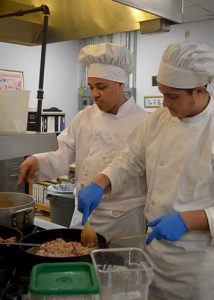 Ian Cote is chasing down a hot career at Capital Region BOCES, but he is not learning the primary skills that career requires in the Career and Technician Education Center (CTE).
Rather, the junior from Niskayuna Central School District, is learning culinary skills that he hopes will make him popular and coveted as a professional firefighter.
"I want to go to college and become a professional firefighter. Learning culinary skills here will allow me to one day be the chef in a firehouse," said Cote.
The senior has always wanted to be a firefighter, but also enjoys cooking — a passion fueled by his grandmother.
"I love cooking at home. I am always in the kitchen with my grandmother and I wanted to experience it professionally by going to CTE," he said.
Upon graduation in June, he plans to pursue a degree in fire service that he hopes will lead him into the Fire Department of the City of New York (FDNY).
Cote figures combining his loving of extinguishing flames with using them in the kitchen is an excellent career choice.
"If you can cook in the firehouse, the firefighters appreciate that," he said. "And firefighters know good food."
He also praised BOCES for providing students with options.
"BOCES gives you options. You can pursue a career here or you can learn life skills like cooking," he said. "It allows you to explore your ideas and see what is the right fit, while still learning skills that you need."