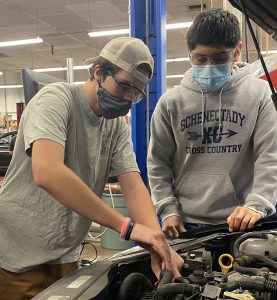 Earlier this year, a group of students took part in interviews for a set of teaching assistants and an administrator for our schools. This new initiative is designed to empower students around decisions impacting them and their education, and to teach valuable life skills.
"It's important to include our scholars in this process and to give them a voice in their futures and the futures of their schools," said Shelette Pleat, principal of our Career and Technical School Albany Campus.
"This is a great way to build a school culture where students feel safe, included and engaged," added Maywood School Principal Sarah Horaczek.
At the Maywood School, sophomore Samuel Spikereit joined his teachers and administrators in interviewing new teaching assistants.
"I liked being included and being able to ask questions," said Spikereit. "I liked being a part of the process that can help the future of our school."
Seniors Sarah Walton (Criminal Justice) and Melody Francis (Culinary Arts and Hospitality Tech) and junior William Rodriguez-Lopez (Automotive Trades Technology)—who rounded out the team interviewing to hire a new assistant principal for the Albany Campus—said they found the process to be informative and personally rewarding.
"Being a part of the interview team taught me a lot about what characteristics people are looking for in job candidates and during interviews. Knowing this will help me a lot when I am applying for jobs," said Walton.
"I learned that it's not enough for teachers and administrators to just meet the qualifications. They have to have the right attitude and they should inspire us [students]," added Francis. "It was fun to be a part of it."