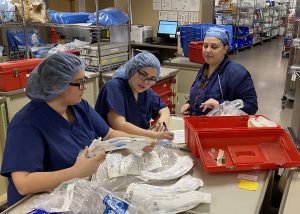 Rosa Friere, who had been working as a certified nurse assistant, decided to take our Sterile Processing Technician program because she was looking "for a change"
"I had no idea that sterile processing existed," said Friere during a recent interview. "Once I learned about it, I thought it would be pretty cool to work on sterilizing equipment and supporting the staff in the OR." 
Before completing our nine-month program in 2016, Friere was encouraged to apply for a sterile processing position in the Albany Medical Center department managed by her by Capital Regin BOCES teacher Jeff Landry. She has worked there since then alongside dozens of other technicians who keep medical and surgical instruments sterilized and ready for use.
"Some days are stressful, and some days are relaxed and chill," she said. "But you have to be focused, no matter what, because you are dealing with instruments that are going into people's bodies."
Sterile processing technicians are essential in keeping healthcare environments safe for patients. Besides hospitals, technicians work in ambulatory surgery centers, medical laboratories, birth centers and other facilities where sterilized equipment is needed. They decontaminate, inspect, package and sterilize equipment and devices used in the healthcare environment. Learn more about our Sterile Processing Technician program for adult learners.