Internal communications campaign earns a prestigious Silver Anvil Award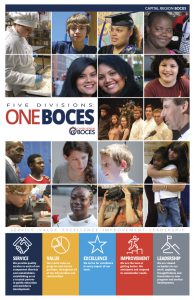 The Capital Region BOCES Communications Service is being recognized alongside some of the best and brightest marketing and communications agencies in the United States.
The service received a Silver Anvil Award from the Public Relations Society of America (PRSA) for an internal communications campaign launched and overseen by the BOCES' corporate communications team.
Winners were announced on October 27, during the virtual PRSA #ICON2020 ceremony. As a result, BOCES joins the ranks of other notable organizations, including Weber Shandwick, American Heart Association and American Airlines, to name a few.
"Our philosophy is that communications efforts should be strategic and aligned with organizational goals. To win an award on this level and to see Capital Region BOCES listed alongside much larger, internationally-recognized organizations validates our approach and our commitment to excellence," said Capital Region BOCES Director of Communications and Public Relations Adrienne Leon, APR.
The award-winning 'One BOCES' campaign was designed to unify employees through a culture of engagement. With nearly 1,500 employees in five divisions, nine buildings, and hundreds of satellite school sites statewide, communication is no easy feat. Creating a campaign that engaged everyone from teachers to technology experts at locations as varied as Sullivan County, Syracuse and Plattsburgh were complex.
Campaign Highlights 
Through the 'One BOCES' campaign, the corporate communications team supported the following initiatives to foster internal communication:
Developed strategic 'One BOCES' messaging to symbolize unity among all divisions with a renewed mission statement and guiding commitments to represent the scope of the organization's work.
Improved engagement through a three-tiered employee recognition program.
Implemented the first-ever annual employee engagement survey.
Increased intranet usage to foster communication.
"This is truly a testament to the cooperative nature of our BOCES and is the reason our Communications Service is seen as a leader in school and industry public relations," said Capital Region BOCES Senior Executive Officer Joseph P. Dragone, Ph.D. "While improving internal communications is a continual goal, we are proud of our efforts, and, for being recognized with this award for how far we have come in just a few short years." 
---
About the Communications Service
The Capital Region BOCES Communications Service helps leaders build trust and credibility with their publics through a planned and strategic two-way communication program aligned with organization goals and priorities. From crisis communications to campaigns that help build informed consent for controversial budgets, the service provides communications expertise in 75 school districts, BOCES and educational organizations across New York. The BOCES' corporate communications team is an integral part of that service, providing expertise and communication strategies.
---
About the Silver Anvil Awards
The Public Relations Society of America's Silver Anvils is regarded as one of the most iconic and prestigious awards in the communications industry. Since 1944, the Silver Anvils have been awarded to organizations that have successfully addressed challenging issues with exemplary professional skill, creativity and resourcefulness. The awards recognize outstanding strategic public relations programs in 18 categories that incorporate insights and analysis, planning, execution and evaluation. 
View the complete list of 2020 PRSA Silver Anvil winners.
View the PRSA press release on the 2020 Silver Anvil awards.