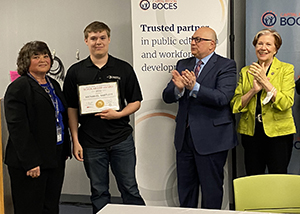 Construction/Heavy Equipment program senior Nate Bartlett of Cobleskill-Richmondville Central School District  was recently chosen as a recipient of The Skilled Trades—3M Transformational Scholarship during an event last week at BOCES.
This scholarship provides schools the ability to build within the community by focusing on bridging gaps of inequality with the highest standards of skilled trades and education.  
The announcement was made as Capital Region BOCES took part in the NC3 National Letter of Intent Signing. Sponsored by the National Coalition of Certification Centers (NC3), the national event mirrors the NCAA's National Signing Day for athletes who commit to play sports in college.
Capital Region BOCES' National Signing Day honored 16 Capital Region BOCES students – chosen from hundreds at BOCES—who are entering a technical field and to celebrate the dignity of work. BOCES participated in this event with more than 65 institutions across the country, conducting a signing ceremony, similar to an athletic signing.  
Bartlett signed a letter of intent to work for New York State Department of Transportation.  He will also participate in the national scholarship reception with fellow scholarship recipients later in the spring.
Bartlett credits BOCES with "opening doors" for him and advancing his future.
"BOCES has helped me a whole lot by introducing me to people in the industry," Bartlett said.