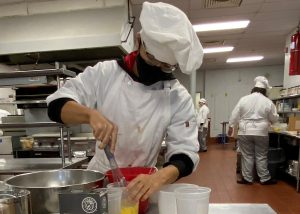 Learning in our Culinary Arts and Hospitality Technology program has had many benefits for senior Treyvon Landells. He is earning high academic honors, has learned that culinary arts is the career for him, and, through his classroom connections, has landed a plum position working in the kitchens of Yono's Restaurant in Albany.
"Coming to BOCES gives me a purpose and makes me want to go to school," said Landells. "I like that you get to learn new things every day and experience new people and all the relationships you make in the kitchen. It's a lot easier to understand your academics, your science and English when you're doing something with it that's interesting."
Landells, who was recommended for the position at Yono's by Culinary instructor Chef Paul Rother, said having a job in the industry while still learning the trade "is great."
"It takes a lot of stress off me… I can begin college and focus on learning knowing that I already have a job," said Landells.
Asked what inspires him to a career in the kitchen, Landells gave a matter-of-fact answer.
"It's fun to do and you improve your life skills. Everyone needs to cook and eat," he said.
Treyvon Landells is one of nearly 100 students in our Culinary Arts and Hospitality Technology program, which is offered at our Career & Technical School Albany and Schoharie campuses. Students in the two-year program learn the skills necessary to enter the workforce as a chef or pursue additional training in college. Graduates work in restaurants and resorts around the region and beyond, own their establishment and even prepare food for professional sporting events.