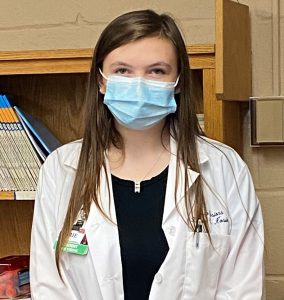 Karrie Kosier's dream is to become a doctor and help children heal. Through our New Visions: Health Careers program, located at St. Peter's and at Ellis Hospitals, the Cobleskill-Richmondville senior is getting a head-start on this career path.
"I have seen the trauma some family members and even friends have gone through and I feel called to help others through their problems," she said.
"I didn't have many options for exploring medicine in my home school, so this is really important to me," said Kosier, who has applied to attend SUNY Brockport or Hartwick College in Fall 2021. "New Visions is allowing me to pursue admission from those colleges because I am able to learn more independently and study [the field of medicine] in-depth."
Kosier is among two dozen students from around the Capital Region who now attend our New Visions: Health Careers program, where students learn through traditional methods and during rotations in various departments of area hospitals. These rotations are structured observations of professionals and procedures in a career field.