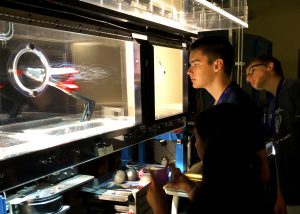 During our tenth annual SEMI High-Tech U, Capital Region students entering grades 9-11 can experience a week of hands-on learning about nanotechnology at such high-tech industries as Tec-Smart/Global Foundries and area universities including Rensselaer Polytechnic Institute (RPI) and the SUNY Poly College of Nanoscale Sciences. 
This year's program will be held July 30-Aug. 1, 2019 from 8:30 a.m. – 4:30 p.m.
Campers will meet each day at our Career & Technical School in Albany. Transportation to learning experiences during the camp days will be provided. There is no cost for this camp.
Register for SEMI High Tech U.
A mandatory Parent/Student Information Night will be held on Monday, July 29, 2019, from 6:30 to 7:30 p.m. at our Career & Technical School, Albany Campus, 1015 Watervliet-Shaker Rd. Albany, NY 12205.