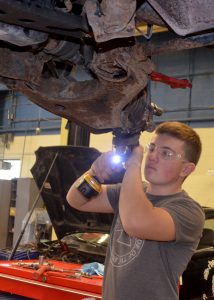 When Chris Goodrich received his diploma from Cobleskill-Richmondville High School in June, he had already landed a full-time job in his field of study.
Goodrich, who earned a number of awards at graduation, including Automotive Technology Outstanding Student (Schoharie Campus), was hired by Carver Companies, an area business that offers everything from road and waterline construction to sand and gravel sales.
Carver officials said Goodrich's skills and poise during their interview distinguished him from 70+ job candidates vying for jobs with the company.
Goodrich credits his coursework for preparing him well for the workforce and the staff at CTE for helping shepherd him through the job application process and preparing him for a successful interview.
"I came to CTE because I learn better hands-on. I like the friendly environment and was able to ask anyone a question if I need help," said Goodrich. "It's nice to know that I have a stable job and don't need to wonder about what my next move in life will be."