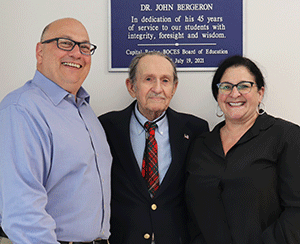 During a recent ceremony, our newest school, Airline Drive Academy, was dedicated in honor of Dr. John Bergeron, a retired scientist and educator with 45 years of volunteer board service.
Bergeron, a Schenectady resident, has been a member of the BOCES Board of Education since 1976. 
"Dr. Bergeron has been a part of monumental changes in the region's education system," said District Superintendent Anita Murphy. "From the launching of Tech Valley High School to the expansion of business and higher education partnerships to policy changes to better support students in our special education programs. This dedication is well-deserved." 
A constant presence at Board of Education meetings where he is known for asking deep-probing questions, Bergeron is a retired scientist from GE Corporate Research and Development. He founded Bergeron Associates Science and Engineering and also served as a director of the Electromagnetic Energy Policy Alliance. Dr. Bergeron also previously taught undergraduate, graduate and postgraduate courses at Cornell University and Brookhaven National Laboratory. 
Dr. Bergeron graduated from Brown University and received a Ph.D. in biology from Cornell University. He lives in Schenectady and has three sons. He has a granddaughter who graduated from Capital Region BOCES' Career & Technical School. 
While serving on the Capital Region BOCES Board of Education, Dr. Bergeron has held the title of president and vice president numerous times and represented the board for a number of years as a member of the Tech Valley High School Operating Board.
The 40,000 square-foot Airline Drive Academy opened in September 2021 following more than a year of planning and construction. The school building is located at 10C Airline Drive in Colonie and serves special education students in kindergarten through eighth grade.