"My time at Capital Region BOCES was life changing. It served as a stepping stone in my nursing career, and has given me the confidence and knowledge I need to be a successful nurse."  — 2021 graduate Heather Jackson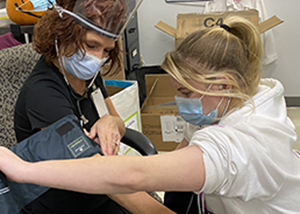 Registration is underway for coursework in Adult Practical Nursing, with classes beginning January 2022.
This part-time program prepares students for one of the fastest-growing and most in-demand jobs in the nation. The U.S. Bureau of Labor Statistics projects a nine percent increase in demand for LPNs between now and 2029. That, coupled with the fact that LPNs earned a median salary nationally in 2019 of $47,480, makes it the right time to enter this exciting field.
The part-time program runs for 18 months, from Jan. 18, 2022 through June 2023. Classes begin at 3 p.m. daily and are taught on the Albany campus of our Career & Technical Education center.
The state-approved Adult Practical Nursing Program at the Capital Region BOCES Career & Technical School encompasses 1,100 hours of classroom and clinical study and practice. Students earn their clinical experience in various local health care facilities, including Albany County Nursing Home, Baptist Health Nursing & Rehabilitation Center, Ellis Hospital and the Teresian House, as well as the well as Our Lady of Mercy and more.
To register or for information, visit our Adult Practical Nursing webpage or call (518) 862-4709.