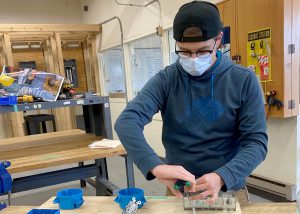 When Kevin Felton enrolled in our adult residential electrical course, he knew he'd found a way to expand his career options with learning that makes sense for him.
"I didn't want to go to a lineman school or college," said Felton. "I like the Capital Region BOCES program because it is short and gets to the point. There are small class sizes and one-on-one learning. This will get me started in the industry and that is perfect for me."
A 150-hour Residential Electrical course is offered in the fall and 150-hour Commercial Electrical course is offered in the spring. Taught by experienced electricians, these courses offer skills in electrical theory, safety, construction codes, low-voltage wiring, switches and controls ad currents. Students also earn Occupational Safety and Health Administration (OSHA) 10-hour Safety Course Certification.
"With 10 percent projected job growth over the next decade and a median U.S. Salary of $55,190 for electricians, there has never been a better time to be an electrician," said Capital Region BOCES Business Liaison Nancy Liddle.
Felton, whose father is a lineman, agrees.
"The program is good. I am learning a lot. It is a nice small class, so you can ask questions and get the help you need," said Felton.