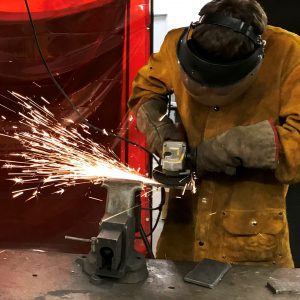 This June, Donald Ploof will graduate with both his high school degree and a valuable toolkit of skills he'll use to further his education in welding and metal fabrication at the Universal Technical Institute (UTI) in Arizona. For the Watervliet student, this wasn't always a sure thing.
"If it wasn't for BOCES, I wouldn't even be graduating," he said as he prepared for a lesson in the welding lab on the Albany campus. "There are a lot of people that have helped me here and kept me on the straight and narrow."
Soon after entering our welding program, Donald realized he was lacking the academic credits he would need to graduate on time.
"That's when they suggested I enroll in Pathways. Through the academy, I was able to get the four or five credits I need (to graduate) in less than two years."
Through the Pathways Academy, located at the Albany Career and Technical School campus, students in grades 9 – 12 take all of the required classes for graduation, including those they may not have been successful with earlier. At the same time, they learn employability skills, such as how to prepare for a job interview and how to communicate effectively. Classes are offered through live classroom teaching and through online courses with support from the Pathways Academy teachers. Students in this program also meet with area business leaders and visit various businesses in the region to better understand the region's workforce.
Pathways Academy Principal, Chris Fatta, said Donald—one of the inaugural class of students in the program that launched during the 2017-18 school year—has been "a quintessential student."
"He's matured significantly over the past year and is ready for life outside of high school. Most importantly, he is a fine young man with the world at his fingertips," Fatta said.