One-size-does-not-fit-all. That's the guiding philosophy at our Pathways Academy where students take part in hands-on experiences tailored to their unique interests and abilities. It's also what helped spawn the Peer Leaders program, which partners Pathways high schoolers with middle school students learning in a special education classroom based at Iroquois Middle School in Niskayuna.
"Originally, this was designed as a 'reading buddies' program to support the middle schoolers' learning," explained Pathways' Principal Chris Fatta. "We noticed that what all of the students were enjoying most was the social aspect of their time together." He said the success in the first year was all the encouragement he and Special Education Principal Carol d'Estienne, who oversees the program at Iroquois Middle School, needed to grow the program this year — making it less about academics and more about relationships and team building.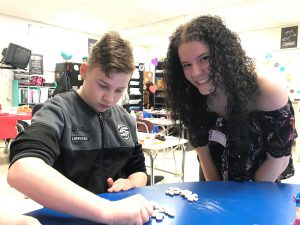 "Ultimately, we are striving for the kids to be decent, kind people and to give back in positive ways to the community — our work in Pathways is about more than just preparing them to pass their Regents exams," Fatta continued. "This program has been a great way for our older students to be successful and see themselves as role models. It is also a low-stress way for all of the students to practice their interpersonal skills."
During the weeks leading up to their monthly visits to Iroquois, the older students plan simple and fun games and activities that center on team building, problem solving and collaboration.
"The Peer Leaders are truly a highlight on our Fridays once a month," said Shelly Peck, who leads the Iroquois Middle School-based program. "It gives my kids a chance to interact with students who are older than them and have conversations about future planning and goals on a one-on-one basis.  They also are excited to hear that the Peer Leaders come from their home districts and travel to school just like they do!"
"You never know what the impact of this sort of experience might be," Fatta said. "For example, one of our students has expressed an interest in doing something after graduation related to childhood education. She said she never would have known this interested her without this experience."
"I enjoy working with the younger students and doing tasks and activities," said ninth grader Haley Soto, one of this year's Peer Leaders. "It makes me feel good about myself knowing that I made a difference in their lives."
The Pathways Academy at the Career & Technical School Albany campus was launched in 2018 as an alternative for high school students who, for a variety of reasons, may not be thriving in a traditional educational setting. Pathways' students take all of the classes required for graduation, including making up classes they may not have had success with earlier, and learn employability skills, such as how to prepare for a job interview and communicate effectively. Classes are offered through live classroom teaching, as well as online courses that are supported by our Pathways Academy teachers. Students also meet with area business leaders and visit various businesses in the region to better understand the region's workforce.