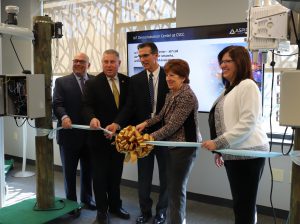 A high-tech training lab, launched in early March at the Capital South Campus Center in Albany, and a new telecommunications and networking cabling program are expanding the opportunities available to young people and adult learners interested in careers in the booming tech industry.
"This partnership with Aspire Technology Partners is the most recent example of our ongoing effort to offer diverse education and training options that prepare people throughout the region to meet the workforce needs of today and tomorrow," said Capital Region BOCES Senior Executive Officer Joseph P. Dragone, Ph.D. 
"This is great news for the City of Albany and for the entire Capital Region," added Albany City Mayor Kathy Sheehan. "One of the greatest challenges we face is a shrinking work force. As we think about how we're going to build the jobs of the future — the jobs that our employers are planning for — we have to ensure we are working alongside those employers to train a workforce that is ready to work."
The new cabling program (slated to begin in Summer 2020) and training in Internet of Things (IoT) technology — which is found in billions of internet-connected devices that collect and share data — will offer individuals hands-on infrastructure technology experiences and the ability to earn industry-recognized C-Tech certifications for careers such as networking technician, electronics technician, fiber optics technician and more.
Thanks to our partners
In addition to Albany City Mayor Kathy Sheehan, we would like to thank the following individuals for attending the Internet of Things (IoT) Technology Demonstration Center launch and their continued support of the learning happening at the Albany South Campus: 
New York State Assembly Member John T. McDonald III  
Aspire Regional Sales Director Mark Culotti
Social Enterprise and Training (SEAT) Center Director of Education & Training Rebecca Paavola 
Albany Can Code Founder Annmarie Lanesey
The Capital South Campus Center is a staple in the community providing individuals with the knowledge, skills and support they need to achieve economic self-sufficiency. Education and training partners include:
Advanced Technology Training and Information Networking (ATTAIN) Lab
Albany Can Code
Albany Literacy Zone
Brightside Up
Homeless and Travelers Aid Society (HATAS)
LifePath
Metrix Learning, Social Enterprise and Training (SEAT) Center
Call 518-862-4760 or stop by the center weekdays, 9 a.m.-8 p.m. (except until 5 p.m. on Fridays) at 20 Warren Street, Albany, NY 12202 to sign up for classes or learn more.