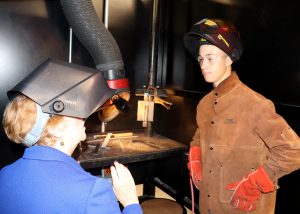 New York State Labor Commissioner Roberta Reardon praised the extensive workforce development programming we offer during a recent tour of the Center for Advanced Technology (CAT) at Mohonasen where we offer six of our more than two dozen career and technical education programs. 
"Career and technical programs like the ones I saw today are a great example of workforce development that works," Reardon said.
"The business partners I talked to were thrilled at the quality of the candidates that they're getting for their open positions. And the look of pride on the face of a high school senior who knows they have a well-paying job lined up after graduation is priceless," the state commissioner added.
BOCES' Senior Executive Officer Joseph P. Dragone, Ph.D. led the commissioner on the tour and touted the ever-expanding skills development and workforce readiness opportunities for students—both high school and adult—within our programs and through our community partnerships. 
Business partners on hand included Ren Tool, Proctors, TCI of NY, UA Local 7 Plumbers and Steamfitters, Haun Welding Supply and STS Steel.
"We are pleased to be a part of this and to talk about the great experience TCI has had working with BOCES and Ravena Coeymans Selkirk High School," said Mark Westcott of TCI of NY.
Students likewise praised the visit and the education they are receiving at BOCES.
"Sometimes it feels like in regular school they don't want you to figure things out yourself… Here, they want you to figure it out, they teach you how to figure it out. There's freedom and the room to build and have your own mind," Ethan Hansen, a game design and implementation student from Voorheesville, told Labor Commissioner Reardon.
"I chose the welding program because do better working with my hands. I have always been interested in welding and it's a good career," added Cory Graham of Cobleskill-Richmondville Central School.