Regional effort supports the transition to remote learning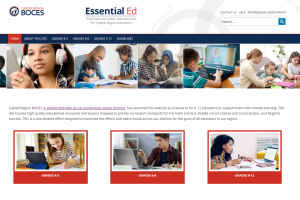 Area K-12 educators have access to a new website to support them with the transition to remote learning during the school closure.
Essential Ed, which was produced by Capital Region BOCES in partnership with its 24 component school districts, houses a host of high-quality curriculum planning resources aligned with priority learning standards.
"This site maximizes the efforts and talent we have right here in our region for the benefit of educators in all of our districts, as well as any educator in New York who may find it helpful during the suspension of onsite classes," said Lauren Gemmill, Capital Region BOCES' Deputy District Superintendent for Curriculum and Instruction. 
Material on the site is optimized for educators and focuses specifically on K-8 math and ELA, middle school science and social studies, and Regents courses. The site is not intended to be used directly by students or parents but is intended to help educators plan standard-specific lessons and units for students. Content also includes resources pertaining to curriculum, instruction and engaging students.
"The site provides a common base that our schools can work from and customize, so that all of our teachers in the region have a starting point," said Gemmill.
For each unit, individual teachers have the option of downloading editable templates. The site also contains videos and educational websites that teachers may choose to use with students through their district's learning management systems and/or online learning platforms.
How the site is used will ultimately vary by district, which is why Gemmill said teachers should connect with their supervisor and follow the direction of district leadership regarding on how to best make use of the resources that are available.
New content will continue to be added to the site throughout the school closure, so educators should check back regularly for updates.