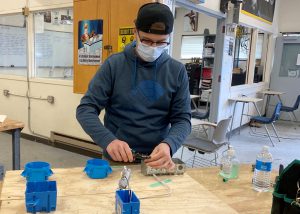 Adults looking for the skills and training for a new career now have two new paths to follow:  Commercial Electrical Trades and Building Trades.
The 150-hour Commercial Electrical Trades program, beginning Jan. 11, 2021 at the Career and Technical School Albany Campus, will provide adult students with fundamental skills and training in commercial electrical trades.
A new Building Trades program, beginning Feb. 22, 2021 at the Career and Technical School Schoharie Campus, is a 150-hour program designed to provide students with the basic skills to start a career as a carpenter, carpenter assistant, construction worker or contractor.
Students who successfully complete these courses will receive the Occupational Safety and Health Administration (OSHA) 10-hour certification.
Hands-On Learning, Flexible Schedules
Our adult education offerings are popular because of the style of teaching and the flexible schedule. View all of our adult educational offerings. 
"I am working with a really good company right now because of this program. I liked that I was able to work and learn new skills at the same time," said 2018 adult Heating, Ventilation, Air Conditioning and Refrigeration (HVAC/R) graduate David Schewe, who was hired by Adirondack Plumbing and Mechanical while still a student.
For more information on these new courses or to express interest, email kendra.pomerville@neric.org or call 518-862-4707.