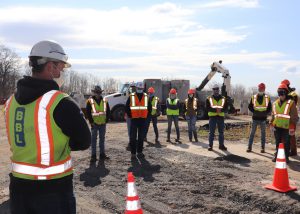 Students in our Construction/Heavy Equipment program got a first-hand look at the site work necessary for a major construction project during a recent tour of the future home of our Career and Technical School Albany Campus and the Maywood School.
Both schools will be located on a parcel across the street from Capital Region BOCES' administrative offices on Watervliet-Shaker Road in Colonie, NY.
Students heard from BBL Construction Services representatives Brian Decker and Jeremy Whiteman about the various processes being undertaken and the value of elements such as a storm water retention pond.
Before heading to the construction site, students reviewed topics such as grading, bench marks and GPS, which they then saw in use.
"They saw it in their books, then saw it on a slideshow and in plans that BBL shared with us, and then they got to walk through it and see it in person," said Construction/Heavy Equipement teacher Dave Doherty.
"This was a great opportunity for the scholars to learn, ask questions and see work underway on such a large scale," added Business Liason Nancy Liddle.
Work on the new three-story, 165,000-squre-foot Career & Technical School and the two-story special education school began in early 2021. The schools are expected to be complete and ready to open for learning for the 2022-2023 school year.