Partnership with GLOBALFOUNDRIES leads to new opportunity for area high school and adult students  
Soon area high school and adult students will have the opportunity to take a new Engineering Technician program.  
Students in the program will learn about the semi-conductor industry, as well as clean room protocol, safety, electronics, hand tool usage, automation, tool extraction and repair, valve operation and repair and more.
Classes will be held during the day for high school students beginning in fall 2018 and at night for adult students in spring 2018. 
Get on the fast track to local jobs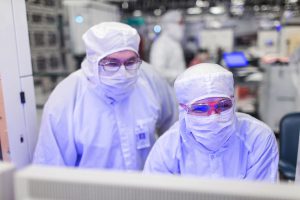 Interview opportunities will be provided to students who qualify for employment at GLOBALFOUNDRIES after they successfully complete the course and meet the company's hiring requirements.
"GLOBALFOUNDRIES is extremely pleased to partner with Capital Region BOCES on this initiative. We have an ongoing need for technical talent and this training partnership opportunity can be the first step in either starting or re-building a great career in a challenging and rewarding industry," said GLOBALFOUNDRIES Human Resources Senior Director Emily Reilly.
"We are very excited about our engagement with Capital Region BOCES to differentiate workforce development and skill enhancement for a pipeline within the region. The more collaboration we have in preparing a regional workforce, the more competitive companies like ours can be."
Program reflects BOCES' ongoing efforts to work with business partners to enhance workforce development 
The partnership between BOCES and GLOBAL FOUNDRIES is designed to help create a steady pipeline of technicians who will be trained and prepared for careers as maintenance technicians, process technicians and production technicians.
"This new program provides our students with a true pathway to job opportunities in the high-tech industry, and is a needed workforce development initiative for our business partners, making it a win/win for everyone," said Capital Region BOCES Senior Executive Officer Joseph P. Dragone. "Programs like this are what Capital Region BOCES is all about, and we've got more on the way — stay tuned!"
Interested in learning more?
High school students and parents – Contact your school district guidance counselor or the Capital Region BOCES Career and Technical School at 518-862-4801.
Adult students – Contact the Capital Region BOCES Adult Education office at 518-862-4707.