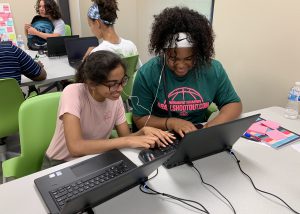 New programs to support job training, workforce development initiatives and additional educational offerings are now available for youth and adults at the Capital South Campus Center (CSCC). The expanded opportunities at the site are part of a new agreement with the Albany Housing Authority, through which Capital Region BOCES becomes the center's lead managing partner.
"The opportunity to collaborate with regional leaders is a perfect match to grow our already existing programming at the site where more than 100 adult learners take our high school equivalency and English as a second language classes," said BOCES'  Supervisor of Adult Education Programs Maria Huntington.  
"BOCES has truly hit the ground running as the new managing partner of the CSCC. Since assuming the role in June, they have made remarkable progress in recruiting key new partners to bring valuable tools to our residents seeking financial self-sufficiency," said Albany Housing Authority Executive Director Steve Longo.
Program partners include Aspire, Advanced Technology Training and Information Networking (ATTAIN) Lab, Albany Can Code, Albany Literacy Zone, Brightside Up (formerly Capital District Child Care Council), the City of Albany, Homeless and Travelers Aid Society (HATAS), LifePath (formerly Senior Services of Albany), Metrix Learning, and the Social Enterprise and Training (SEAT) Center.
As a result of these new partnerships there will be more job skills training for individuals, such as computer coding, culinary training, child care certification and more.
"I am glad to see that the Capital South Campus Center will be expanding their partnerships and programming," said Assemblymember John T. McDonald III. "As we often hear, there are opportunities available but the key is getting people trained and skilled in the fields where there are growing workforce needs. By providing resources to learn more about building trades, health care fields, and emerging technology we are supporting our community members to find more than just a job but a career that will boost our families and communities while spurring development in our region."
"All of our partners share in our commitment to equip young people and adults with the education and training they need to find local employment that meets the workforce needs of today and tomorrow," said BOCES' Senior Executive Officer Joseph Dragone, Ph.D. "We are pleased to partner with such a diverse group of organizations whose expertise greatly benefits residents in the South End, larger city and Capital Region."  
New training and certification programs, job skills development and more
To address the local demand for web developers several new coding courses offered by Albany Can Code are underway this fall in partnership with BOCES and SEAT for both young adults and adults. 
 "SEAT Center is very excited to bring our TRAIN UP program model to Albany and we are excited about the community partnerships that make our youth workforce programming possible," said SEAT Center Executive Director Jennifer Lawrence. "Through this collective work, we will bring opportunities to young people who often feel out of hope and out of options." 
Similar programming was offered by Albany Can Code this summer to Albany middle school students through the first AT&T and Capital Region STEM Hub All-Girls Summer Coding Camp. The free two-week camp taught participants the skills necessary to break the gender and diversity gaps that exist in the tech industry.
"We are excited to provide programs at the Capital South Campus Center that are helping to remove the cultural and economic barriers to great jobs in the tech industry," said Albany Can Code Founder and Chief Executive Officer Annmarie Lanesey. "Our partnership with Capital Region BOCES is a critical element in ensuring we deliver education and training that truly changes lives."
A partnership with SEAT and LifePath will provide culinary training and certification in the hospitality industries with internship opportunities available through Meals on Wheels, Head Start programs and other area dining facilities.
"I'm thrilled to be partnering with BOCES and SEAT to provide residents with hands-on culinary and catering experiences that will help propel their futures," said LifePath Executive Director Monika Boeckmann. 
Individuals  interested in a career working with children can now earn their Child Development Associate (CDA) credential on-site with Brightside Up. 
Free computer classes are currently available to individuals 17 years of age or older through the ATTAIN Lab. A new partnership between Metrix Learning, ATTAIN Lab and Capital Region BOCES will add dozens of workforce development opportunities based on interest.
"The ATTAIN Lab serves as a great community resource," said ATTAIN Lab Coordinator Jimmy Dilone. "It's close to home and the computers don't have a time limit. All people have to do is register and give their time to learn."
An on-site case manager through the Albany Literacy Zone helps individuals move beyond poverty and into the work world with lessons on creating a family budget, enrolling in health insurance, understanding legal rights, and resume building along with access to essential wrap-around services.
"It's a good place for someone looking for support," said Dana Miller who earned her high school equivalency degree after enrolling in the Literacy Zone program. "They let you make your mistakes because they know it's hard and still support you. They never gave up on me." 
Work is underway to staff an on-site childcare room and additional partnerships and programs are also being explored.
To learn more about programming, call 518-862-4760 or stop by the center weekdays, 9 a.m.-8 p.m. (except until 5 p.m. on Fridays) at 20 Warren Street, Albany, NY 12202.