Literacy Zone classes, resources help adults achieve the knowledge, skills and support needed to achieve economic self-sufficiency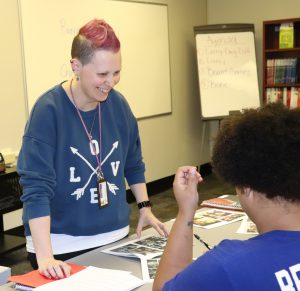 At the new West Hill/Arbor Hill Literacy Zone, Albany residents can get help with earning their high school diploma, finding a job or learning English. 
The West Hill/Arbor Hill center, at 388 Clinton Ave, Albany, N.Y., is designed to help close the achievement gap for those living in poverty and who have limited literacy or English language skills. It is the second Literacy Zone facility in the city, and offers the same range of educational and employment support services available at its sister site, the South End Literacy Zone, located at the Capital South Campus Center, 20 Warren Street, Albany, N.Y.
Literacy zone coordinators at each of the facilities collaborate closely with community partners to create workshops designed to help individuals move beyond poverty. These include lessons on creating a family budget, enrolling in health insurance, understanding legal rights, resume building, and much more. 
Earlier this year, Capital Region BOCES, in collaboration with the Trinity Alliance of the Capital Region, City School District of Albany, New York State Department of Labor Career Center, Albany County Department of Social Services, Capital Region Workforce Investment Board, Albany Public Library, and Albany Community Action Partnership, received two grants in excess of $1.2 million to fund the creation of the West Hill/Arbor Hill Literacy Zone. One of these grants is being used to maintain funding to the existing Albany South End Literacy Zone.
"Hundreds and thousands of Albany residents have benefited from the Literacy Zone classrooms dotting key neighborhoods," said Trinity Alliance of the Capital Region, Inc. CEO Harris Oberlander. "It is doubly gratifying to know that the State Education Department has recognized the work of Capital Region BOCES and Trinity Alliance by awarding yet a second grant to umbrella our area with additional classrooms and social supports that clear the way for advanced learning, workforce participation and higher wages."
Community leaders, including the Center for Law and Justice, the City of Albany, Albany County, Cornell Cooperative Extension, and local colleges have also voiced support for the grant funding of literacy zones and the assistance they provide.
"This type of partnership continues our mission of closing the achievement gap in urban communities by providing individuals and families with access to educational and other services necessary for their success right in their neighborhoods," said Capital Region BOCES Senior Executive Officer Joseph P. Dragone. "These are critical services that drive workforce development and adult literacy."
"Albany County Department of Social Services' mission aligns directly with the BOCES Literacy Zone objective to equip adults with the knowledge, skills and support they need to achieve economic self-sufficiency," said Albany County Executive, Daniel P. McCoy. "Albany County looks forward to working with the Literacy Zone in the South End, and the new site in Arbor Hill, to create even more opportunity for those we serve."
Learn more about how nontraditional students are getting the support, education and in-demand workforce skills they need to succeed at our two Literacy Zone spaces in Albany's South End and West Hill/Arbor Hill.