Business-education partnership to develop local workforce pipeline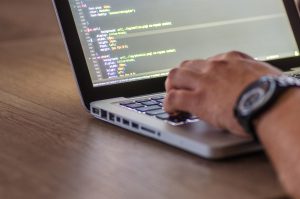 A new computer science course in downtown Albany will help put local residents on the path towards a field that drives job growth and innovation.
Capital Region BOCES, Albany Can Code and SUNY Schenectady County Community College are joining forces to address the demand for web developers—jobs that are difficult to fill in the Capital Region due to a lack of training. According to the New York State Department of Labor, information technology jobs are expected to grow 18.6 percent by 2024.
Students will learn on-site at the Capital South Campus Center, 20 Warren Street, Albany. The center is a staple in the community providing residents with the knowledge, skills, and support they need to achieve economic self-sufficiency.
"We are thrilled to be offering a course at the Capital South Campus Center," said Chief Executive Officer of Albany Can Code Annmarie Lanesey. "It is exciting to see individuals changing not only their careers, but their lives, as a result of the education and training we provide."
"SUNY Schenectady is pleased to expand the reach of software coding offerings in Albany as well as capitalize on strong partnerships with Albany Can Code and Capital Region BOCES," said Sarah Wilson-Sparrow, SUNY Schenectady County Community College representative. "These collaborative partnerships provide supportive learning opportunities for returning adult students in the region. In essence, everybody wins."
The course uses online and in-person instruction to teach students how to program in HTML, CSS, and Javascript. Students will participate in class tutorials, assignments, and individual and group projects. Guest lectures, exposure to local employers and networking events will also be part of the course.
"We have long been providing adults in downtown Albany with opportunities to learn literacy and work readiness skills through our various programs at the Capital South Campus Center," said Capital Region BOCES Senior Executive Officer Joseph P. Dragone. "The introduction of coding principles and practices will help more residents gain a competitive edge while making the local talent pipeline stronger."
Enrollment underway
The 12-week, Front End Web Development, course will run January 29 – April 19, 2019, on Tuesday and Thursday nights, 5:30 – 8:30 p.m.
The $1,500 cost includes tuition, books and lab fees. Tuition assistance is available for those who qualify. Email info@albanycancode.org to  learn more.
To register or for more information, email wilsons@sunysccc.edu or visit the SUNY SCCC Career Development website.