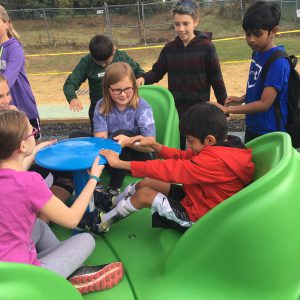 Thanks to the Guilderland Central School District, New York State Sen. George Amedore, Jr. and generous contributions from the school community, playing together is easier for students on a new, fully accessible playground at Pine Bush Elementary School. 
Pine Bush Elementary is one of the schools within the Guilderland district that hosts Capital Region BOCES special education classes. Nearly 40 elementary-age students with disabilities learn in five BOCES classrooms at the school.
The new play space, adjacent to the existing playground, meets all Americans with Disabilities Act (ADA) guidelines for playgrounds. Included are ground-level cutouts and smooth surfacing for easy access onto the space, and adaptive equipment, such as swings that are wheelchair accessible and ones that have head and neck support for those who need it.
"This new playground is a wonderful addition to a school community that is already so welcoming and accommodating of our students and staff," said Caralee Kardash, director of Special Education. "This will definitely be an enhancement that all of the students at Pine Bush will benefit from."
"Our students are enriched educationally and socially by being able to learn along with their peers in the districts we serve," said Capital Region BOCES  Senior Executive Officer Joseph P. Dragone, PhD. "We are very thankful for these partnerships and the opportunities they offer."