The Pathways Academy, launched in March 2018, is providing students with a different way to meet their graduation requirements while preparing them for future careers.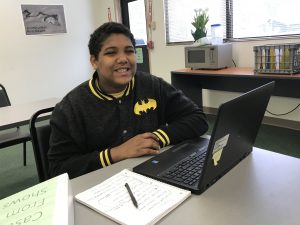 Located on the Albany campus of the Capital Region BOCES Career and Technical School, the program serves 22 students from the Watervliet and Cohoes school districts, but will expand to include as many as 40 students this fall from across the region.
"The idea is provide students with an alternative path to graduation. Some of our students may have fallen behind credit-wise in high school, others may simply need a different approach to learning," said Mary Cahill, director of Educational Support Services.
While in the Academy, students in grades 9 through 12 take all of the required classes for graduation, including making up classes they didn't have success with earlier. At the same time, they learn employability skills, such as how to prepare for a job interview and how to effectively communicate. Classes are offered through live classroom teaching, as well as online courses that they receive assistance from a Pathways Academy teacher. They also meet with area business leaders and visit various businesses in the region to better understand the region's workforce.
"I hate sitting in a regular class and having the teacher up there just talking. I'd rather sit at a computer and work at my own pace with a teacher," said John Kelsey, a senior from Cohoes. "By going to Pathways Academy, I will be able to do that and graduate on time."
For Jordan Jourdanais of Cohoes, the ability to learn at his own pace was a major draw.
"I like Pathways because I like to work at my own pace and it will allow me to graduate on time," said Jourdanais, as he worked with a teacher on an assignment.
While shepherding students through the high school graduation requirements, the Pathways Academy also exposes students to potential careers and provides them with an opportunity to enroll in courses at the Capital Region BOCES Career and Technical School that would lead to those careers.
For Jourdanais, that career is welding.
"I want to learn about welding and get a job in it. I think it is an exciting career because you learn how to make things," he said.
Pathways Academy Assistant Principal Charles Paravella said the program is a great way to help students who may be struggling in a traditional setting.
"This program helps students graduate on time and not only envision themselves in a career and with a future, but gives them the skills necessary  to make that future happen. That's what schooling is all about," he said.