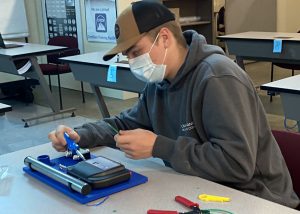 You could say Career and Technical School student Chris Rarick is going the extra mile for his education… an extra 40 miles, to be exact.
That's the distance the Ravena-Coeymans-Selkirk High School (RCS) senior drives to learn the art of network cabling and smart home technology installation on our Schoharie campus.
While RCS buses dozens of students to our programs on the Albany and Center for Advanced Technology at Mohonasen campuses, it is not feasible for the school to bus students more than an hour to the Schoharie Campus.
But that is not stopping Rarick from learning the skills he needs to pursue his future career goals.
"I drive myself to BOCES every day from RCS because I am really interested in this program. I am willing to go the extra mile to take this class," he said.
Students in our Network Cabling Technician/Smart Home Technology program learn how to wire buildings and homes with either traditional copper wire or the newer fiber optic cable, as well install networks, wires and cables that connect computers, telephones and energy management systems.
The program utilizes C-Tech, an international workforce development company specializing in curriculum development, to provide industry recognized certificates. Using those certificates, students like Rarick can begin careers in telecommunication, audio/visual and telephone industries, or have a head start on careers as they pursue further education.
For Rarick, his career has already begun with "side jobs" installing security cameras and wiring for friends, family members and others who reach out to him. Upon graduation in June, Rarick hopes to make his business a full-time venture.
"I feel like this has already helped me reach my goals and taught me everything I need to know to get started in wiring and cabling," he said.
Our Network Cabling Technician/Smart Home Technology program will be moving to our Albany Campus at the start of the 2021-22 school year. Learn more about this program and the more than three dozen other programs we offer through our Career and Technical schools.