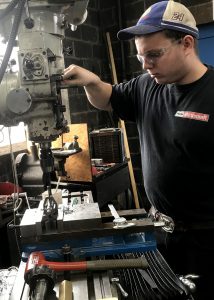 Business-education partnerships and their value in overcoming the skilled-labor shortage will be the focus of this year's Manufacturing Day at the Center for Advanced Technology (CAT) at Mohonasen. 
The event is part of the national Manufacturing Day effort designed to spotlight the importance of the manufacturing sector and the promising career opportunities it offers students.
Demand is skyrocketing for skilled laborers in the manufacturing industry, specifically machinists and computer numerically controlled (CNC) machine tool programmers. This comes at a time when the industry workforce is aging and many of its workers are reaching retirement age.
A panel discussion on the skilled labor shortage (known as the middle skills gap) and the solutions business-education partnerships provide, as well as a press conference, will take place Monday, Oct. 1, starting at 8:45 a.m.  
Representatives from Capital Region BOCES, Case Window & Door, Greane Tree Technology, Key Bank, and SUNY Schenectady County Community College will lead the panel discussion. Also scheduled to speak on the value of business-education partnerships:
Center for Economic Growth President and CEO Andrew Kennedy
Capital Region BOCES Senior Executive Officer Joseph P. Dragone, Ph.D.
SUNY Schenectady County Community College President Steady Moono
Mohonasen Central School District Superintendent Shannon Shine
Area students
The event is hosted by the Mohonasen Central and is being coordinated by Capital Region BOCES, the Capital Region Chamber, the Center for Economic Growth, SUNY Schenectady County Community College, and the Mohonasen and Watervliet school districts.
For more information, contact Audrey Hendricks, audrey.hendricks@neric.org, 518-464-3954, or Karen Nerney, karen.nerney@neric.org, 518-356-8250.