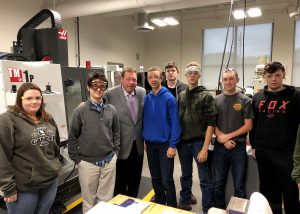 As many in manufacturing professions are nearing retirement age, the need increases regionally and across the U.S. for skilled workers to move into this segment of the workforce.
Business-education partnerships and their value in overcoming the skilled-labor shortage was the focus of this year's Manufacturing Day event at the Center for Advanced Technology (CAT) at Mohonasen. 
"The manufacturing sector continues to grow here in the Capital Region," said Andrew Kennedy, president of the Center for Economic Growth. "It is at the highest level we have seen since 2001 and businesses want to hire local."
"Whether in engineering or manufacturing, there are a lot of jobs being created in the Capital Region," added Assemblyman Angelo Santabarbara. 
Attendees at this year's event emphasized how programs that collaborate with industry partners, such as the Pathways in Technology Early College High School (P-TECH) and the Capital Region BOCES Career and Technical School , are preparing the next generation of manufacturing professionals.
Assemblyman Chris Tague, a 1986 Capital Region BOCES graduate, said what he learned as a BOCES student helped prepare him for his current career in state government.
"We continue to provide more opportunities for students because of the people we partner with," said Capital Region BOCES Senior Executive Officer Joseph P. Dragone, Ph.D.
"That is what Capital Region BOCES does so well," added Matt Grattan, director of community and economic development at the University at Albany," and it's what SUNY Schenectady County Community College also does so well."
Voorheesville High School senior and BOCES machining and manufacturing student Chris Zautner credited the opportunity to work within the industry that is embedded in his program for the excitement he feels for his studies. Zautner is currently working with Ren Tool and Manufacturing Company of Schenectady, one of the more than 300 businesses that partner with Capital Region BOCES.
"How many people who are still in high school can say they are manufacturing parts for General Electric?" Zautner asked. "I can thanks to Capital Region BOCES and Ren Tools."