Troy City School District To Feature Science, Technology, Engineering, Art and Math (STEAM) Activities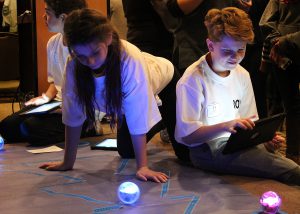 Fifth-graders from Troy's School 18 will present about STEAM Days at the Northeastern Regional Information Center's (NERIC) 30th Annual Regional Technology Awareness Day on Friday, Dec. 14 at the Red Lion Hotel in Albany. 
The presentation, which will take place from 10-10:45 a.m., will feature approximately 10 fifth-graders demonstrating their favorite STEAM Day activities including robotics, video conferencing and maker space, and show how the activities relate to what they are learning.
"Our hope is that these STEAM days empower teachers to effectively integrate technology more regularly," said Erin Sheevers, technology director at Troy City School District.
The day-long event will run from 8 a.m. to 2 p.m. There is still time to register! 
Other Event Highlights 
Technology Playground
More than 30 students from across the region will showcasing technology-related, hands-on activities they enjoy in their classrooms.
Professional Development
Educators will have the opportunity to attend 35 sessions focused on everything from digital literacy to gamification.
Endnote Speakers to Encourage Creativity and Innovation in Teaching and Learning 
Brothers Paul and Peter Reynolds, co-founders of FableVision Studios , will serve as the endnote speakers. Their non-profit organization, The Reynolds Center for Teaching, Learning, and Creativity, is committed to developing, implementing and supporting innovative ways to promote teacher and student creativity across curriculum with a focus on STEM/STEAM.