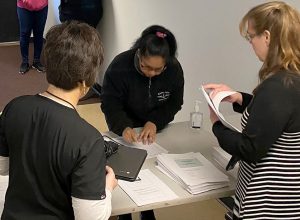 As schools closed across the nation closed due to the COVID-19/coronavirus pandemic, the faculty and staff of our Adult Health Careers program scrambled to develop a solution that would allow the full- and part-time Adult Practical Nursing students to complete their studies and achieve their dreams of becoming licensed practical nurses.
"We were able to distribute the computers we had on hand and that we were able to borrow from the Northeastern Regional Information Center (NERIC) — ensuring that all of our students have access to the technology needed to continue their education, which is more important now than ever before given the international crisis we're facing," said Health Careers & Services Principal Paula Negri.
The adult health careers and nursing students are learning during their normal scheduled class times using WebEx connections coordinated by NERIC. Kimberley Hannigan, health careers supervisor, is overseeing the instruction.
Additionally, with hospitals and nursing homes now off limits to non-essential staff and visitors, the students are completing their required clinical hours using the New York State Office of Professions-approved online learning program Real Life for LPNs by ATI.
"Real Life provides real life scenarios to the students that have an impact on the virtual patient. It engages our students in patient care and requires them to think critically, which is extremely important for their future success," explained Negri.
Negri said she is extremely proud of her students, as well as faculty and staff, for the resilience they have shown in the face of an unprecedented crisis.
"It's extremely gratifying to see everyone come together so quickly, develop a solution and switch to online learning — something we have never even tried before — in less than a week's time."