October 2021 Commitment Award For Excellence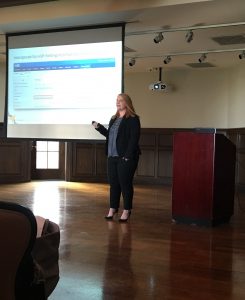 Congratulations to Kristin O'Callaghan for winning the October 2021 Commitment Award for Improvement!
Kristin is a Program Coordinator II with the Testing & Data Reports Team. Kristin was hired in October 2019 after which there was the cancellation of the NYS exams for 3 – 8 and June Regents in 2020. 2021 led to administration policies changes modifying all of the procedures yet again. This caused a significant disruption in the ability to become trained and master of day-to-day Testing & Data Reports operations. 
When there were no exams, Kristin used this time to review documentation and go through processes for other parts of the service in order to become as familiar with the testing components of the service where possible. In the modified year, she attended all related meetings as well as additional professional development opportunities and did not hesitate to ask questions where necessary in order to support our districts. She collaborated on numerous projects with the team to become familiar with the other services and is the lead designer of our new Tableau and Cognos Level 1 Data Report Guides.
Congratulations Kristin!
The Commitment Awards were established to recognize employees who embody each commitment to a significant degree, and is one part of a three-tiered recognition program to build a culture of gratitude through acknowledgment and appreciation. Our Commitments — SERVICE, VALUE, EXCELLENCE, IMPROVEMENT, LEADERSHIP — embody what we do and who we are.