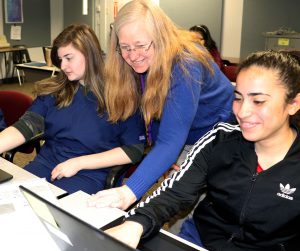 Career & Technical School Teacher Joanne Clegg has been named "Teacher of the Year" by the New York Association for Continuing and Community Education (NYACCE) for her dedication to the teaching profession and being a "constant, unwavering source of hope to her students." 
Joanne, who has been with our BOCES for more than a dozen years, currently teaches integrated science by day to Career & Technical School high school students and works with adult learners in our High School Equivalency (HSE) program at night.  Prior to joining BOCES, Joanne spent a decade in biomedical research, five years as an assistant professor of chemistry at the U.S. Naval Academy and five years as a science teacher at St. Anne Institute.
Joanne said it has been a lifelong goal to follow in her mother's footsteps and become a teacher.
"I firmly believe that everyone has the capacity to learn," said Joanne. "It is the teacher's job to find the key that unlocks the door and turn on the light.  What I enjoy most is seeing that moment when the student realizes that 'Yes! I can learn science and it makes sense.' Also seeing students realize that learning is a needed life skill that will continue throughout their lives." 
About being named "Teacher of the Year," Joanne responded humbly that she is simply "sharing a gift I am lucky enough to have." 
"As an employee of two educational programs, [Joanne] has a unique perspective on school-age and adult learners that she incorporates into her classrooms," said Adult Education Program Manager Maria Huntington, who, along with teacher Tarin Bready, nominated Joanne for the award. "[Joanne] takes professional development, technology, and student support very seriously. Regardless of the classroom she's teaching in, she is compassionate, caring, and dedicated to making her students succeed in their educational and career pathways."