February 2022 Commitment Award For Excellence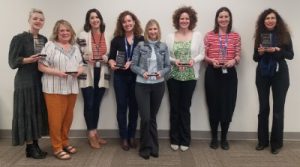 Our Instructional Coaching team has received of our February 2022 commitment award for excellence.
Members of the team include Erin Baertschi, Melissa Drummond, Heidi Hauf-Aupperle, Meredith Herrmann, Michelle Irons, Abigail Jacobs, Donna Lamkin, Laura McDaniel and Amanda McNeal.
In nominating the team for this honor, the Directors of Curriculum & Instructional Data Theresa Billington and Sharon Swain had this to say:
"The team of instructional coaches at Capital Region BOCES has been monumental in supporting teachers and leaders in our internal programs and across the region.
From the beginning of the COVID closure, they have worked tirelessly, well beyond the workday, to provide instructional and emotional supports, as well as support with strategic planning in districts and buildings to ensure that student growth continues despite some of the most challenging situations. In addition, they have helped to create a standards aligned curriculum, Essential Ed, that is recognized and utilized regionally and statewide.
These lifelong learners prioritize the need to remain current and on the cutting edge by becoming experts in new standards, high impact teaching strategies, student centered coaching, data protocols and continual improvement cycles, just to name a few.
Their leadership in our districts and buildings is consistently recognized as outstanding and invaluable. We are excited to nominate these amazing members of our coaching team."
The Commitment Awards were established to recognize employees who embody each commitment to a significant degree, and is one part of a three-tiered recognition program to build a culture of gratitude through acknowledgment and appreciation. Our Commitments — SERVICE, VALUE, EXCELLENCE, IMPROVEMENT, LEADERSHIP — embody what we do and who we are.