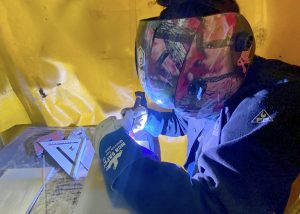 A Guilderland teenager who just a couple of years ago had never welded is now planning a career in the industry thanks to her training at Capital Region BOCES.
In pursuing a career "under the hood," Darielys Maya is on a path to join an industry that employs more than 410,000 workers in the United States, but less than 4 percent of which identify as women, according to federal labor statistics.
"I like hands-on learning and I like to work with heat so this is a good fit," said Maya during a recent break from practicing her skills.
Maya enrolled in the Capital Region BOCES Career & Technical School starting in her junior year at Guilderland after seeing a welding demonstration and being intrigued by it.
"I look back and never could have imagined myself in a welding lab, but know I can't imagine myself not," she said at the end of her first school year.
Maya graduated in June after completing several projects her senior year and earning professional certifications.
"It is very fast-paced. There is always something to do and if there isn't, (Teacher Don) Mattoon will find something for me to do and that's perfect for me," she said, adding, "the people here are what make this place great."
As to the future Maya is exploring options.
She plans to purchase welding equipment she can use at home while furthering her education in the welding program at Hudson Valley Community College. She also plans to pursue a job as a welder at Greyhound.
Maya is matter-of-fact when it comes to advising future students about the program.
"Just do it. There is nothing that can be considered a negative about learning welding skills and it can set you up well for your future."