May 2021 Commitment Award For Service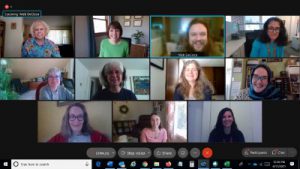 Congratulations to Nick DeCicco, Deanna Dimone, Melissa Gaetano, Beth Kellerman, Nancy Morrison, Jennie Oesterreicher, Kylie Pierce, Kathleen Roark, Kim Smithgall, Sharon Wait and Laura Whalen—our Grant Writing team—for winning our May 2021 commitment award for service.
The 11 members of the Grants Team epitomize high-quality service to the school district, BOCES, non-profit and municipal clients they serve. Team members push themselves to constantly improve their craft—through both formal weekly trainings and informal discussions with colleagues focused on learning about new funders and strategies for improving grant proposal outcomes.
Return On Investment
Every Grants Team member is focused on working together to ensure each client sees return on investment in the highly competitive grants field… and it has worked: since 2010, 81% of clients have received more back in grant funding than they invested in the service, and that return on investment jumps to 94% for clients subscribing to the service for two or more years.
As client funding needs have changed since 2010, the Grants Team has evolved to ensure it continues providing exceptional service to every client. This has included branching into more federal funders, building an in-house expertise in entitlement funding and helping clients manage multiple grant awards.
Grant-writing is a labor-intensive activity, and the team has also evolved over time by finding efficiencies that allow clients to receive an even higher level of service without added cost. The team is writing more grants than ever before (typically 225+ applications are submitted annually) and it has adopted many processes over the years to ensure every application is of the highest quality, from a formal internal editing process to mentors for new team members and regular meetings for writers working on the same applications.
Consistently High Quality Service
A strong team mentality, with writers routinely helping each other to meet deadlines, has also become a cornerstone of their work to ensure consistently high quality service.
Increasingly, and based on requests from clients, the Grants Team is also helping clients during implementation of grant-awarded funds, working directly with funders to ease challenges for clients and help ensure they receive every dollar of their grant awards and are able to reach their program goals.
All of this has led to a service that has expanded over time: in the 2010-2011 school year, the Grants Service had a few clients; today it has 22, and the team is on track to serve a growing number of clients in the year ahead.
What Clients Say About Our Grant Writing Service
"The BOCES grant-writing service basically crushes it."
"Working with the team has been a godsend… I don't think we could live without them."
"To have a team behind you that is relentlessly championing to make sure that you meet the needs of the clientele in your care…you can't ask for anything more."
"Not only would I say [our district] counts on it, our kids count on it, too."
These are just a few of the positive comments received from district superintendents as the Grants Team recently celebrated achieving the milestone of winning $100 million in grant awards for its clients since the Grants Service was founded in 2010.
The Commitment Awards were established to recognize employees who embody each commitment to a significant degree, and is one part of a three-tiered recognition program to build a culture of gratitude through acknowledgment and appreciation. Our Commitments — SERVICE, VALUE, EXCELLENCE, IMPROVEMENT, LEADERSHIP — embody what we do and who we are.