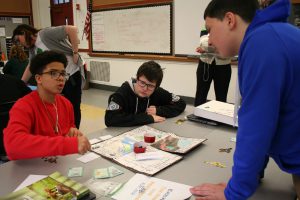 It was all fun and games on a recent Friday afternoon as student teams at the Capital Region Pathways in Technology Early College High School (P-TECH) East Campus pitched prototypes for board games they designed based on Charles Darwin's Theory of Evolution.
To prepare for the project, students built their content knowledge of evolution and evaluated different board game formats.
Marketing—including a five-minute "elevator pitch" to introduce the games and quickly explain their mechanics and objectives—was another essential component of the project. Students received guidance on this aspect of the project—and game development in general—from visiting local business owners and entrepreneurs, such as Charlotte Guyton of Bard & Baker, the area's first board game cafe in downtown Troy, and Walter Thorne, director of business development for JDog Junk Removal & Hauling.
Students were able to hone their presentation skills while speaking before a panel of judges who included Astra Wijaya, game design instructor at BOCES' Career and Technical School; Rachel Reilly, an independent game designer; and Karen Fox, director of educational initiatives for the Capital Region Chamber.
Once the presentations were complete, students, teachers and judges got to roll the dice and play the games themselves.
"I liked learning about natural selection and the ways that animals adapt to their environment to survive," said Colin Foster, who worked with classmate Diogenes George to create the game "Adapt It," which features animal characters finding a safe path to a new habitat.  "It was interesting to learn about marketing and being able to sell your product, too."
Students will now use the feedback they received to fine tune their games then share them with Watervliet Jr.-Sr. High School educators, who will use them during lessons with their own students.