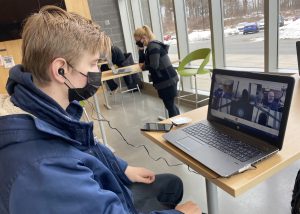 Have the vision, but not sure what it takes to break into the field of game design? Soon, students in our Game Design and Implementation program will have the chance to learn from the pros at Troy-based Vicarious Visions what it takes to break into and be successful in the industry. 
In a kick-off to a series of 30-minutes virtual sessions with students, Steve Derrick, a 20-year veteran of the company — famous for creating such games as Guitar Hero and the Tony Hawk series — described his own path from painter and artist to game developer. He talked with students, such as Shenendehowa senior and Game Design and Implementation student Dylan Doxater, about the future of the industry and the skills he believes are game developer essentials. 
"This seems cool. I am super interested in it and to see how it can help me reach my goals," Doxtater said of the sessions with Derrick.
"This is a great way for our students to hear about the potential that exists for them and the path they need to follow to climb from gamer to professional game designer," added Makensie Bullinger, principal of the Center for Advanced Technology.
Plan to attend our virtual Game Design and Implementation Open House
During a Virtual Video Tour/Open House on Feb. 3, 2020, interested students and their families can learn more about our Game Design and Implementation program and get details on how to apply to attend in the 2021-22 school year.
Visit our Career & Technical school program page to explore our 40+ career-focused courses and programs.