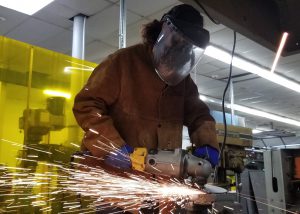 A move back east from the West Coast sparked a desire in Laura Kessler to give a new career a try—metal fabrication.
"While I enjoyed teaching technology in elementary school, the obstacles to acquiring a teaching certificate in New York state were sizable. Instead, I decided to pursue an interest I have had for many years," Kessler said.
Kessler became interested in welding while she was earning a degree in studio arts at the College of St. Rose.
"The welding portion of sculpture class was fascinating to me and I developed a love for metal and tools," she said.
To heat up her career options, Kessler recently graduated from our Adult Welding and Metal Fabrication program where she earned several certifications, as well as learned the skills necessary to succeed.
"The course was quite comprehensive. We began with SMAW (arc welding) to gain the basic concepts and welding technique. From there, we practiced GMAW (mig), flux core, and GTAW (tig). We also learned how to use many of the industrial tools in the well-apportioned BOCES shop," she recalled.
"As far as industry and 'soft skills', there was a heavy emphasis on safety and professionalism. This part of the course helped build the confidence I have now to apply to a fabrication position in any environment. Previously, I had jobs in metal shops but ended up leaving them because there was a lack of professionalism and I wasn't sure how to approach it. Now that I've seen that modeled, I have the confidence to expect nothing less and have a better idea about how to handle common problems," Kessler said.
As to her future, Kessler said she is applying for a welding position, but is also interested in non-destructive testing and perhaps even a return to the classroom – this time as a welding teacher.
"Women are grossly under-represented in fabrication professions and since there are so many diverse opportunities, it's important to include more women in a way that is empowering and comfortable," she said.