Senior Mark Molesky earns kudos for his skills, lands HVAC/R job pre-graduation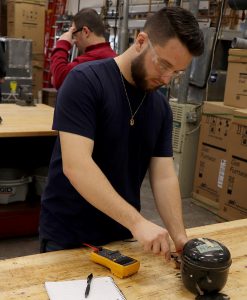 Mark Molesky first learned about Heating, Ventilation, Air Conditioning and Refrigeration (HVAC/R) during a career fair at Schoharie High School.
Four years later, Mark is set to graduate high school, already has a job in the industry and is considered one of the best technicians in the state, having placed third in the New York State SkillsUSA HVAC/R competition in Syracuse this spring.
"There is just something about it, the hands-on work, that I enjoy," he said.
Mark is one of more than a dozen seniors in the Capital Region BOCES Career and Technical School HVAC/R program, all of whom have either found employment in the industry, enrolled in an HVAC/R program at college or done both. Mark will begin a job with Northeast Heating and Cooling this summer—which he was connected with by his Career & Tech teacher, Frank Ando, who works with area businesses to forge relationships and match the program's curriculum to the needs of the industry.
"It's amazing to have a job lined up before graduation," Mark said.
The two-year HVAC/R program gives students a solid career foundation. In a state-of-the art classroom, students learn about ventilation, piping, refrigerants and refrigeration, furnaces and boilers.
Demand is high for workers with a solid skill set in this field. According to the U.S. Bureau of Labor Statistics (BLS) projects employment of HVAC/R technicians will grow 15 percent faster than the average for all occupations by 2026.