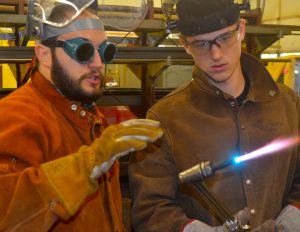 A decade after graduating from the Capital Region BOCES Career and Technical Education welding program, Don Mattoon has returned to the school's hallowed halls and bustling welding labs. 
The Rotterdam resident joined the ranks of BOCES teachers in September, teaching aspiring welders from across the Capital Region the art and skill of welding, as well as what it takes to be a professional welder.
"There are a lot of young people coming into the industry who don't know how to act or present themselves. They don't know that they have to play the part and act professionally. I want to help the kids so that they don't make that mistake," said Mattoon.
Not long ago, Mattoon was a young student lacking confidence in his abilities.
"When I graduated, I wasn't confident, so I went to welding school after high school," Mattoon said. "When I was there, the instructor said to me, 'What are you doing here?' I told him I thought this was the next step. He told me that I could have gotten a job with right out of high school with the training I already had."
After graduating welding school, Mattoon proved his instructor right, quickly making his way up the ladder of the welding industry. He entered the industry at Phillips Medical Systems, where he welded medical equipment such as MRI machines. From there, he took a job at Met Weld International in Altamont welding oil rigs, tanks and other related products. His most recent assignment, prior to joining the ranks of BOCES faculty, was at Northeast Precision Welding. There he not only serviced and welded turbines and related equipment, but also trained employees.
As to his time thus far in the classroom as a teacher at BOCES, Mattoon said it's been "pretty amazing."
"I really enjoy sharing my knowledge in the field of welding with students. It's pretty amazing to see students with no experience at all in welding being able to put down some respectable welds in just a short period of time. I loved my time here as a student and I can see the same passion in the students."