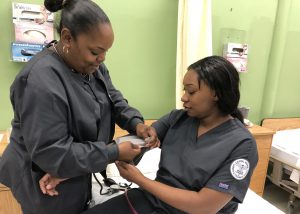 With nearly every graduate going on to careers in the health care industry or to further nursing studies, it's easy to see why our Adult Health Careers/Adult Practical Nursing (LPN) program had its largest class ever enroll—and graduate—last year.
One of the fastest growing and highest demand jobs in the nation, nursing is a career with many rewards for ambitious people looking for a challenge.
The adults entering the program for the most part are shifting careers, looking for a stable financial future or looking to follow a dream. In the last two years alone,  our Albany-based program has graduated dozens of single moms looking for financial security, immigrants, career changers and those drawn to a career that offers purpose and meaning.
The New York state-approved APN program encompasses 1,100 hours of classroom and clinical study and practice. Students earn their clinical experience in various local health care facilities, including Ellis Hospital, Teresian House, the Albany County Nursing Home and Baptist Health Nursing and Rehabilitation Center, as well as the Schenectady Center.
Students who complete the program are prepared to take the National Council Licensure Examination and apply to become a New York state Licensed Practical Nurse (LPN).