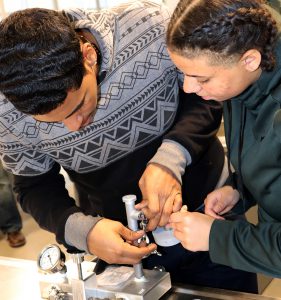 Once an education path for those students only seeking vocational skills, career and technical education is now a pathway for students looking to build career skills, get a start on their college education or just learn a life skill that will allow them pay for college. At our Career and Technical School, more than 70 percent of high school students pursue higher education, while many others directly enter the workforce with a highly technical skill set.
We offer approximately 40 programs that prepare students for specific careers, and give students such skills as communications, interviewing and time management that span the spectrum of careers.
Our programs are guided by input received from the business community. These professionals serve on 17 different advisory panels that meet periodically at BOCES and guide the curriculum and planning, as well as provide work-based learning opportunities for students.
A key example of the BOCES-business partnership is the new Engineering Technician program launched last September, which is the result of a partnership between BOCES and GLOBALFOUNDRIES. The program will train students for careers at the high tech giant and other employers in the region and beyond.
Another example is the Telecommunication and Network Cabling Technician program launching next September as a result of multiple businesses expressing a need for certified and trained fiber optics technicians, lineman and related skilled professionals.
"There's a large demand among business leaders across the region and state to place an emphasis on college- and career-readiness," said Dr. Valerie Kelsey, deputy director of career and technical education. "The programs we offer include everything from culinary and welding to electrical trades, auto body repair and internet application design. But they also prepare students with life skills that apply to whatever career a student pursues."
BOCES officials receive calls daily from employers looking to recruit students and graduate because the extremely small skilled labor pool of potential employees.
"We literally cannot keep up with the demand for workers," said James Haas, work based learning coordinator.
More than 1,000 students from throughout the Capital Region take courses at our Albany and Schoharie campuses, at the Mohonasen Center for Advanced Technology, and in New Visions classrooms. Nationally, more than 15 million high school and post-secondary students are pursuing career and technical education, according to the U.S. Department of Education.
By choosing an education that includes career and technical training, students are getting an education that is critical to their personal success, as well as the success of this region and the country.
What our current students and graduates have to say about their Career and Technical School education
"I chose the sterile processing program because I want to get into the medical field. I want to be a nurse and use the skills I am learning here to pay for college." — Destiny Rose
"My sister is in college and it costs so much. The welding program allows you to learn the skills you need for a good career without going to college and taking on all of that debt." — Brittany Celebucki
"I am going to go to college at SUNY Cobleskill and then I want to get a job at Conestoga Construction. I feel very well prepared for college because of the skills I have learned at Capital Region BOCES." — Alex Juhl
"BOCES prepared us so well for college. Within two or three weeks of getting to SUNY Delhi, we made the hot foods (competition) team beating out juniors and seniors. That's because of what we learned at BOCES." — Jessica Shultis, referring to her experience and that of fellow graduate Carly Yezzo
"There are a lot of possibilities in the [heating, ventilation, air conditioning and refrigeration (HVAC/R) field]. It's recession-proof and I am doing quite well."  —John Broadus, Class of 2013