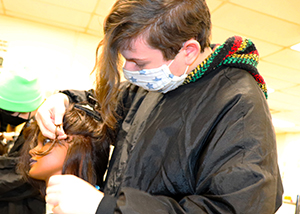 Bennett Karas, a North Colonie junior attending our Cosmetology program, is learning the skills and earning the 1,000 hours of training and experience needed to take the New York state licensure exam, with the hope of one day becoming a stylist to the stars.
"I am just glad to have the learning experience and to be able to do what I enjoy and learn about it," Karas said while styling hair on a mannequin during a recent class.
"I think of cosmetology as like psychology. [But] instead of just our minds, it helps people with their minds and their beauty," Karas said.
Upon graduation, Karas plans to go to Hollywood and style hair on movie sets.
"I have always loved being creative."
Recruitment Now Underway
Recruiting is underway for the 2022-23 school year. The year will be highlighted by the opening of a new, state-of-the-art Career and Technical School, Albany Campus that will house nearly all programs. The Schoharie Campus will also remain open providing numerous opportunities for students in the southwestern reaches of Capital Region BOCES.
Learn About Our Career & Technical Education Programs
The  Cosmetology program is one of more than 40 programs offered on one of three campuses for high school students. Learn about the many courses available to through our Career & Technical School.