September 2021 Commitment Award For Excellence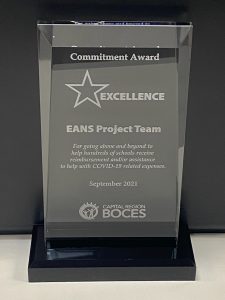 Congratulations to the entire Emergency Assistance to Non-Public Schools (EANS) Team for winning the September 2021 Commitment Award for Excellence!
The Emergency Assistance to Non-Public Schools (EANS) program is a federal grant program, wherein nonpublic schools could apply to the State to receive reimbursement and/or assistance to help with COVID-19 related expenses. The State Education Department advised Capital Region BOCES that they did not have the resources to perform the State function, so we got to work.
Donald Wells was hired as the project manager. Don had to hire/obtain almost 50 employees to assist with this project, including three legal interns, team manager Celeste Fonda, temporary workers and numerous internal employees throughout the organization who worked overtime to assist with this project. The agency had to stand up a process and procedure for the receipt of over 600 applications during a one week time period. This was an all-hands-on-deck project that required the assistance of numerous individuals across the agency. Many people voluntarily came to assist with this project on a moment's notice.
The people on this project went above and beyond what was asked; they helped create solutions to complex issues and put systems in place to accept applications from over 600 nonpublic schools under less than a two week deadline; they reviewed over 400 applications; combing over hundreds and thousands of receipts/invoice/credit card statements to ensure that expenses were eligible under the federal law. They answered hundreds of emails and telephone calls; sent hundreds of letters requesting additional information; all within 30 days. This was a monumental undertaking. The agency had to find quick ways to hire additional support for the project and see if our own employees could work overtime and weekends to help. 
This team exemplified the BOCES commitments of service and excellence. Despite the daunting 30-day deadline required by the feds, the team made the deadline, with daily counts and whiteboard updates for all to see. The entire team developed new strategies and training for all employees to ensure there was a consistent review of applications. They talked out complicated issues and followed through with each of the unique nonpublic schools. We couldn't be more proud of the work that these individuals put into this project from April through July so our BOCES could help hundreds of schools receive the funding needed to address the pandemic.
All we can say is wow and congratulations to the EANS Team!
The Commitment Awards were established to recognize employees who embody each commitment to a significant degree, and is one part of a three-tiered recognition program to build a culture of gratitude through acknowledgment and appreciation. Our Commitments — SERVICE, VALUE, EXCELLENCE, IMPROVEMENT, LEADERSHIP — embody what we do and who we are.