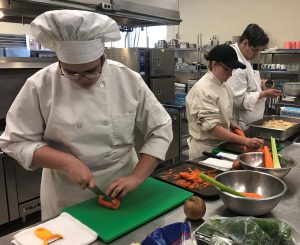 Two ProStart state culinary competition wins over two years—and the teamwork and preparation they involved—have created a unique bond for seniors Kathryn Manchester and Alexia Torres.
The duo, who attend Capital Region BOCES Career and Technical School from the Cobleskill-Richmondville Central School District, will graduate this June as two-time state champs and among the best high school cooks in the country, having secured a 9th place finish at ProStart nationals in 2018 and an 11th place finish in 2019. Both times, they competed against the top 50 teams in the nation.
In 2018, they were part of a four-student team that also included Jovan Afzali of Berne-Knox-Westerlo and Devlan Matthews of Schoharie. This year they were joined in the competition by Logan Stephens from Middleburgh.
For Alexia, who is heading to the Culinary Institute of America (CIA) in the fall to pursue a four-year culinary degree, cooking has been a lifelong passion. Her family has a restaurant in Cobleskill and she also works in a fast food establishment.
"Coming to BOCES taught me a different way of doing things and how things are supposed to be done. It has definitely opened my eyes," she said. "BOCES gave me the professional knowledge and experience I'll need to move ahead in the industry… and taking part in ProStart has given me the light I needed to know for sure this is what I want."
Kathryn, who was convinced to pursue a culinary program at BOCES by Alexia, has yet to determine what her next move will be.
"I am either going to pursue culinary or something with farming. Either way, I will always have the culinary skills I have learned here," she said.