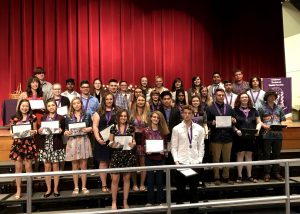 Forty Career and Technical School (CTE) students were inducted into the National Technical Honor Society (NTHS) and 10 seniors were recognized for serving two years in the NTHS during a May 21 ceremony at South Colonie Central High School.
Those honored represent a cross section of CTE programs, from welding and culinary to the New Visions Health Careers and New Visions Law & Government.
To be honored, students had to meet several criteria, including earning grade point averages (GPA) of 92 or greater at Career & Tech and an overall GPA of 85 or greater at their high schools, as well as having five or fewer absences.a
"I'm in awe of what our students have accomplished," Dr. Valerie Kelsey, deputy director of career and technical education for Capital Region BOCES, told the students, family and friends gathered for the ceremony. "They have proven that they have the right stuff and are the right workers employers are seeking."
The 40 new inductees and 10 returning members hail from 22 school districts across three BOCES regions that send students to Capital Region BOCES programs.
New NTHS inductees include:
Emily Adis, New Visions Health Careers, Scotia-Glenville
Jovan Afzali, Culinary Arts, Berne-Knox-Westerlo
Thomas Ascenzi, Computer/Network Tech, Cohoes
Kassidy Berger, New Visions Law & Government, Maple Hill
Riley Black, Commercial Construction, Schalmont
Jordan Brown, Criminal Justice, Cohoes
Jonathan Butler, Building Trades, Mohonasen
Alexander Cioffi, Welding, Cohoes
Andrew Clark, Electrical Trades, Ravena-Coeymans-Selkirk (RCS)
Elaina Elliott, New Visions Health Careers, Scotia-Glenville
Lillianna Forth, New Visions Health Careers, Scotia-Glenville
Danielle Graham, Criminal Justice, Cobleskill-Richmondville (CRCS)
Gavin Haar, Electrical Trades, South Colonie
Ismail Hassan, Electrical Trades, Schenectady
Jared Hays, Welding, Guilderland
Destiny Hull, New Visions Law & Government, Chatham
Emily Jackson, New Visions Health Careers, CRCS
Qais Latifi, Criminal Justice, Shenendehowa
Rachel Leffler, New Visions Health Careers, Scotia-Glenville
Katlynn Manchester, Culinary Arts, CRCS
Roshnie Matadin, Nurse Assistant, Schenectady
Caitlin McDonald, New Visions Health Careers, Scotia-Glenville
Mark Molesky, HVAC/R, Schoharie
Kelly Mullen, Video Game Design, Duanesburg
Emily Newell, New Visions Law & Government, Saratoga Springs
Gianni Nicholas, New Visions Law & Government, Niskayuna
Taylor Oathout, New Visions Law & Government, Scotia-Glenville
Mary Katherine Palleschi, New Visions Health Careers, Scotia-Glenville
Torianna Palmer, Floral Design, Cohoes
Liam Picozzi, New Visions Health Careers, Burnt Hills-Ballston Lake
Julianna Proctor, Nurse Assistant, RCS
Maleigh Ray, Criminal Justice, Schenectady
Michael Rienze, New Visions Law & Government, Troy
Anthony Samaroo, Criminal Justice, Schenectady
Aeddon Schultz, New Visions Health Careers, Scotia-Glenville
Alexis Stephens, Cosmetology, Middleburgh
Demetreus Todman, Electrical Trades, RCS
Lance Tongson, Computer/Network Tech, Niskayuna
James Tunney, Diesel Technology, Voorheesville
Dayna Ward, Nurse Assistant, Bethlehem
Katherine Zapotocki, Criminal Justice, Duanesburg
Christopher Zautner, Manufacturing & Machining, Voorheesville
Students honored for being a NTHS member for two years include:
Ashley Colvin, Nurse Assistant, Niskayuna
Destiny Dugan, Criminal Justice, Cohoes
Angel Ferrand, Criminal Justice, Shenendehowa
Emily Garner, Criminal Justice, Cohoes
Kathleen Hannmann, Culinary Arts, Middleburgh
Shashwat Sahai, Internet Applications, Voorheesville
Daniel Sawyer, Criminal Justice, Cobleskill-Richmondville
Seanna Slingerland, Criminal Justice, Guilderland
Taylor Vincent, Building Trades, Berne-Knox-Westerlo
Kailynne Zafke, Criminal Justice, RCS